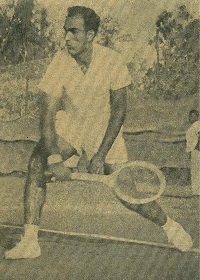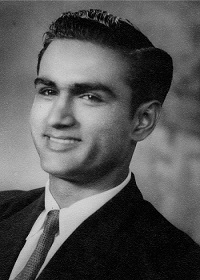 Biography
Yusuf Karim was born in Mumbai, India in 1935 to Ahmed and Sherbanu Karim in humble circumstances and as part of a large family. His father relocated to East Africa in 1937 during World War II and settled in Mombasa.
When Yusuf began to show promise and talent in sports, he received all encouragement from his father to support his burgeoning talent in both tennis and cricket. At the age of 25, young by today's standards, Karim decided to start his own family at a time when he was already well-known as a sporting personality both in Mombasa and Dar es Salaam.
As was the custom, Karim's marriage was arranged and in 1960, he travelled to the Tanzanian seaport where he met Nargis for the first time for the engagement. They got married later that year on June 10. Four days later after the wedding, the newly married couple went back to Mombasa. Their first born child, a son was born on May 3, 1961 and they called him Aarif. On December 15, 1963, two days after Kenya gained independence from British rule; they celebrated the birth of their second son Aasif. Altaf, their third son was born on June 30, 1968.
Meanwhile, Karim continued with his enthusiasm in sports at Mvita Club where he was a great tennis, cricket and volleyball player. Although tennis became Karim's main focus, he did equally well in almost all the games he took part in. There was even debate whether he might not have been a better cricketer than tennis player had he concentrated on that game.
During the short time Karim played cricket, he played for Kenya in 1957 and captained the Mombasa Jaffery Sports Club for seven seasons and hit 18 first centuries. However, tennis remained his first choice, and with business demanding more of his time, Karim left cricket and volleyball to concentrate on the courts.
He ruled the tennis scene in Mombasa like the proverbial Colossus and went on to win the title for 25 straight years, earning him the name "The King of Mombasa Courts". Yusuf retired in 1977 aged 42.
When as chairman of Aristocrats, he joined staff of Aristocrats Insurance Brokers Ltd, a firm run by Aasif, for the 2008 Christmas party, little was it known that it would be the "last supper" between the late Karim and personnel.
Though wheel-chair bound due to a debilitating disease but nevertheless alert and active probably due to his strong sporting background, his towering presence was there.
And when he passed away on March 18, 2009, all the country's dailies like they reported his many triumphs during the years he was unassailable on the tennis court carried the news. However, wherever he is, Karim must be contented that just like in a relay race; he passed the baton to his son Aasif to carry on with the family dynasty.
Career

25 Years Mombasa Tennis Champion (1951-1977)

13 Times Coast Tennis Champion

8 Years Tennis Captain for Jaffery Club
8 Years Cricket Captain Jaffery Club
Cricket Captain for Coast Muslims

1948-1965 played Tennis and Cricket for Kenya Muslims and Coast Asians

1950's - 1960's Formidable Volleryball Player for Jaffery Club
On The Internet

Coastweek